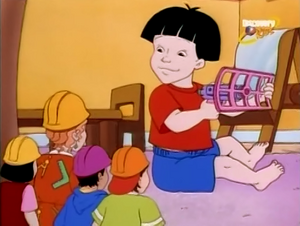 William Li is Wanda's younger brother. He is kind of mischievous. While he can walk and somewhat talk, he's being potty trained, sleeps in a crib, and drinks from a bottle. He appears in "Ups and Downs", "Under Construction" and "Meets Molly Cule" (in Wanda's fantasy).
Appearance
William has straight black hair similar to his sister. He's most commonly seen wearing a red T-shirt and blue shorts.
In the new series, William wears a yellow T-shirt, blue overalls and white and blue sneakers.
 Episode Appearances
Trivia
Lisa Yamanaka also voiced William along with his big sister Wanda.
He is aged up in the third series.
He is even more aged up in the new series.
---
* Debut | ** On TV | *** In the Movie | --- School