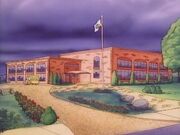 Walkerville is a fictional town that serves as the setting of the children's television series The Magic School Bus and its live-action films.
Characters
Walkerville Elementary School
Bakery
The Haunted House/Museum
Places
Trivia
Even though the state for the school is not specified, in the producer segment the phone number area code is 224. Which is the area code for northern Chicago Suburbs.