Timothy "Tim" Wright (Max BeckfordMSB (S1), Andre Ottley-LorantMSB (S2, S3, S4), Kaden StephenRA) is one of the eight students in Ms. Frizzle's class.
Family
Tim is the son of Mr. and Mrs. Wright, who are real-estate agents[1]. He also is revealed to have a grandfather, who is a beekeeper[2], and an aunt, Maxine, who is an actuary.[3]
Personality
Tim is the quiet, imaginative, laid-back and artistic student in the class. He can usually be seen drawing something.
Appearances
Tim's signature colors are black, white, cyan, and green.
Books by Joanna Cole/Bruce Degen (and various other books) and The Magic School Bus original series
Tim's appearance stays mostly the same. He wears a blue henley shirt with (with a green neckline in the original TV series and spin-off books) navy trousers and black and mauve sneakers.
The Magic School Bus Rides Again
Tim now has an afro hairstyle. He wears his pale blue shirt under a beige and black varsity jacket. For legwear, he wears the same blue jeans, and now brown gumboots.
Background
Tim is the most observant and artistic student in the class. He isn't necessarily the quietest of the students, and he can usually be found drawing something, such as Liz posing on a crater on Mercury or his comic book franchise The Adventures Of Weatherman. He occasionally tells jokes, sometimes along with Carlos. His grandfather owns a bee farm outside of Walkerville, and as a small job he delivers the honey at the start of winter. Like Dorothy Ann, his last name is mentioned in the Rides Again series. (Dorothy Ann Hudson and Tim Wright)
Storyline
The Magic School Bus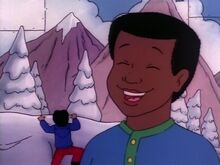 Tim can be seen drawing in various episodes, be it Liz on Mercury or Arnold's digestive system. In "Kicks Up a Storm," he sees his opportunity to draw a comic book, The Adventures of Weatherman.
In "Taking Flight," Tim and Wanda built a remote control plane that he designed (based on her "dreams"), and in "Ups and Downs" he hopes to get film footage of the "sea monster" in Walker Lake.
Tim and Wanda are delivering honey for Tim's grandfather in "In a Beehive," but when they crash and lose the honey, he asks Ms. Frizzle if they can go to his grandpa's bee farm. Instead, she takes them in a beehive when Phoebe is against taking honey from bees, much to Tim's dismay. In "Works Out," Ms. Frizzle charges him with coaching and supporting her in the Teacherathlon while the others are in her circulatory system. In "In the Rainforest," when Ms. Frizzle's cocoa tree fails to yield any cocoa beans, he and Dorothy Ann become rainforest investigators to find out why.
Tim is building a gift for Dorothy Ann's birthday in "Sees Stars" (a model of the Sun that plays "Wait 'Till the Sun Shines, Nellie" when wound up), but after he trips and drops it, shattering it, the class decides to get her a star. He is ready to buy one, but Keesha wants to see them, saying her grandmother bought a faulty mop from the Home Mopping Network, thus she wants to see the product first, much to his dismay as he wants to make deadlines. He is a fox along with Arnold and Phoebe in "In the City."
The Magic School Bus Rides Again
For a time-capsule ceremony, Tim makes a comic book about Weatherman and Captain Rock Man.
As the biggest fan of world celebrity Nicky Ray, he competes on her game show, "Celebrity SuperStumpers Puzzlepalooza" with Ms. Frizzle's class against the background characters. (The Land Before Tim) When lightning hits the Magic School Bus, it fractures into three parts. Tim is sent with Wanda and Jyoti in Peru.
Relatives
Tim talks about his grandfather in "In a Beehive." He owns a bee farm.
His parents make a brief appearance in "Going Batty." They are real estate agents.
His aunt Maxine is a major character in Takes a Risk: A Book about Probability. She is an actuary who joins her nephew and his class on their field trip.
Trivia
He loves to draw (his last name, Wright, might be a reference to his artistic qualities).
His catchphrase, "We've been Frizzled (big time)!" originated in the original series special, A Magic School Bus Halloween.
He's almost always shown as the tallest in the class.
He has his own video camera, giving his television counterpart some qualities of classmate John from the books. [4]
His favorite color is turquoise. [5]
He has a grandfather who owns a bee farm. [6]
He has an accent in the first season of the original series and throughout the Rides Again series, as Max Beckford (former) and Kaden Stephen (latter) (his voice actors in those seasons) both have African-American accents.
Like Dorothy Ann Hudson, he was never given a last name in the books or the original TV series. However, their last names were revealed in The Magic School Bus Rides Again: Meet the Class.
Tim and Arnold are the only main kids to have had their voice actors change in the 2nd season. In the 1st season, he was voiced by Max Beckford, and in the 2nd-4th seasons, he was voiced by Andre Ottley-Lorant. The reason for this change was because Max was already going through puberty during production of the 1st season, and before production for 2nd season started, Max's voice was already too deep for him to continue voicing Tim. In the episode "Kids in Space", his voice actor, Kaden Stephen, was going through puberty as well, as well as Miles KV, Arnold's voice actor prior to that episode.
Before his role as Tim (and also during his work in MSB) Kaden Stephen also played the character Howler on the Disney Channel series PJ Masks during its first, second, and third seasons. In the fourth season, another MSB voice-over, Matthew Mucci (Ralphie currently) took over playing Howler.
Tim may have feelings for Keesha. [9]
Tim is one of the two students to change voice actors after the first season of the original series due to puberty, the other being Arnold.
Tim is the 3rd major character revealed to have grandparents, the first being Ralphie, and the second being Keesha.
He, Dorothy (Ann) and Ralphie all have 7 letters in their names. But only his full name, Timothy, is counted.

Tim's French name is Thomas, which has 6 letters.

Andre Ottley-Lorant is the only one of Tim's voices not to have an accent of some sort. Max Beckford ha an African-Americans accent, and Kaden Stephen has a Jamaican accent.

He is also the only one of Tim's voice actors whose voice hasn't deepened to sound adult-like when voicing Tim.

He and Keesha are the only African-American students in the television series.
Tim's full name is Timothy. [10]
Tim is right-handed. [11]
Tim's field trip suits were blue in the original series, and black in The Magic School Bus Rides Again.
Tim has seen a lot of monster movies. [12]
Tim doesn't know about fossils and maps. [13]
Tim believe that trees and animals talk. [14]
Tim's puzzler hero, idol and role model is Nicky Ray [15].
Tim's parents work in real estate. [16]
Tim's variant is Ralphie
References
---
* Débuted | ** Briefly | --- Formerly
Wright Family
Tim Wright · Maxine Wright (spin-off book canon only)
---
* Debut | ** On TV | *** In the Movie | --- School