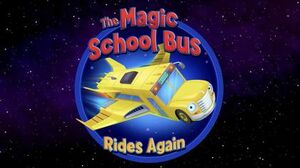 The Magic School Bus Rides Again (shortened to simply Rides Again by fans of the series) is an ongoing animated educational TV and streaming series. It first released on Netflix in 2017, and then to other platforms in 2020. In November of 2020, the series débuted on the Qubo Channel and has been airing until February 2021[1]. It is preceded by its canonical prequel, Scholastic's The Magic School Bus.
It continues after the events of the time when technology was introduced into Walkerville Elementary. It premiered on September 29, 2017 and is ongoing. It was produced with 9 Story Media Group and Scholastic along with Netflix. It consists of half-hour episodes, similar to its prequel. It is based on the original Magic School Bus book series, and works as a sequel to the 1994 TV series. Former teacher Valerie Frizzle passes over the keys of The Bus to her younger sister Fiona Frizzle, the new teacher.
In 2020, the "cancelling" from April 13, 2018 was revealed to be a hiatus when the special "Kids in Space" dropped on Netflix on August 7th of that year. It is found on a separate Netflix page than the main series. Later, "The Frizz Connection" released on October 20th of the same year, and In the Zone followed it on the 26th of December. Then another hiatus happened. One more special will première after that.[2]
All the main 26 episodes were released to DVD and other streaming services by NCircle on July 7, 2020. Instead of breaking the main 26 episodes into two seasons, NCircle groups all the episodes into a single season.
On November 1, 2020, the show started airing on Qubo, similar to how its predecessor aired ten years ago.
Ms. Frizzle, now Professor Frizzle, has taken over the role of the producer by answering questions at the end of the episodes. At the end of the Producer Says segments with Professor Frizzle, the next episode is teased, similar to the books by Joanna Cole and Bruce Degen. Professor Frizzle has hosted these segments for the first two seasons, and as of now, only guest stars have hosted Producer Says Segments in Season 3, with Liz reprising her role in the original series as the "animal", and the Bus taking over the Motorbike's role as the "vehicle".
A film adaptation for either this series or the original series was announced in June 2020, with Elizabeth Banks playing the role of Ms. Frizzle, without clarifying if she will be playing Valerie or Fiona.
Seasons
International Names[3]
Language
Name in Original Alphabet
Name in Latin Alphabet
Image
Arabic

باص المدرسة العجيب يعود مجددًا

Baṣ al Madrasat al 'Ajib Ya'ud Majdadadana

Danish

Den Magiske Skolebus kører igen
French
Les nouvelles aventures du Bus Magique (NOE)

Le Bus Magique reprend la route (NOA)

German

Der Zauberschulbus ist wieder unterwegs

Greek

Το Μαγικό Σχολικό στο Δρόμο Ξανά
To Magikó Scholikó sto Drómo Xaná