Seatbelts, everyone! Welcome to the Wiki!
We currently have 750 articles, and edited 34,351 times since July 31, 2008.
The Magic School Bus + Rides Again Wiki is the Fandom encyclopedia for anything related to the longest-running educational franchise in history! Go ahead and read the wiki or edit it, and as Professor Frizzle says, "Get out there and EXPLORE!"
The wiki for both Magic School Bus shows
This is the wiki for both MSB series. So if you like The Magic School Bus Rides Again, then don't be afraid to help out editing pages about it!
- MegaSceptile001 and Kirbylover3006iloveyou (staff)
The Complete Series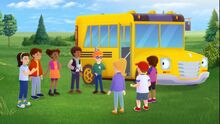 A quick look at the seasons of the television series.
The Magic School Bus
Based on Joanna Cole's famous
The Magic School Bus
series of books, this show followed Ms. Frizzle (now Professor Frizzle) and her students as they went on field trips in the titular bus.
The Magic School Bus Rides Again
The continued adventures of the class. This time, Professor Frizzle has gotten a PhD, so she lets her sister take care of the students and conduct them on field trips while she researches and gives facts to other kids.
Episode Schedule
Stay up to date on new and upcoming episodes of The Magic School Bus Rides Again.
Latest Aired: Season 2, Episode 16: In the Zone (Time Zones) - December 26, 2020

Next: TBA (topic) - Month DD, YYYY

Other: The Magic School Bus film
Sysop Users
A sysop user has the ability to control or change anything about The Magic School Bus+Rides Again Wiki. They are also known as "admins".
Main administrators:
Founder of The Magic School Bus + Rides Again Wiki:
The Magic School Bus + Rides Again Wiki Representative: