Professor Cornelia C. Contralto II, voiced by the late Carol Channing, is the curator and owner of the town's sound museum. She, like her great-grandmother Professor Cornelia C. Contralto I, is an expert in acoustics and vibration. She also helps Carlos develop his instrument and find the perfect sound. She is always looking to add to her great-grandmother's sound collection, and at the end, she annexes Carlos' new and improved instrument. She was also responsible for playing what he called the "Call of Cornelia" on her organ.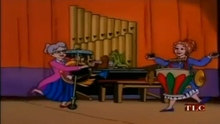 Trivia
She is only seen in one episode ("In the Haunted House ").
At the end of the episode she sings with Ms. Frizzle and plays Carlos's Instrument.
Ms Frizzle states that Cornelia's great-grandmother was born in 1807, and disappeared in 1892.
---
* Debut | ** On TV | *** In the Movie | --- School
Community content is available under
CC-BY-SA
unless otherwise noted.