"How can Ms. Frizzle be with you when she's with us in Peru right now?"
This article is about the male character voiced by Malcolm-Jamal Warner. You may be looking for the female character voiced by Susan Blu.
The Producer is the main host of most Producer Says segments in the Original Series. He takes phone calls from kids around the world about that day's episode. Many times, callers will point out the more fantastic elements of the episode, and he can tell us why the show used such an extreme example (like kids turning into raindrops, or traveling to outer space). He will also occasionally quiz the kids who are calling in, or point out extra information that the episode left out. He shares his office with his (and the Frizzles') pet lizard, Liz, as his sidekick, and his colleague, the female producer.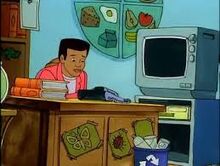 He bears a passing resemblance to Tim, much as the female producer does to Wanda.
In the Magic School Bus Rides Again, the Producer's role at the end of each episode is taken over by Ms. Valerie Frizzle.
Here are his Producer Says Segments:
Trivia
He has hosted the most Producer Says segments, behind Professor Frizzle, all guest stars combined, and the female producer.
In the segment for Goes on Air, he is referred to as "Produce-Air", relating to the topic.
In the segment for Meets Molly Cule, he does not talk and text.
In the segment for Plays Ball, he slips on a banana peel, which is done by him to stop a call.