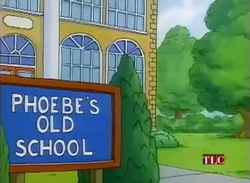 Phoebe's (Old) School is a school in Walkerville. Hence its name, this is the school that Phoebe has enrolled in prior to and after her enrollment at Walker Elementary School in the TV series, and the school that Phoebe has previously enrolled in in the canonical universe of the books.
Students and Staff
Trivia
In The Magic School Bus Rides Again, Phoebe transferred back to it, as Arnold mentioned when he allowed Jyoti to find a seat.
In the classic TV series, the school is actually named Phoebe's Old School. Despite the name, the real name for her school is unknown.
In the book canon, Phoebe used to attend this school.