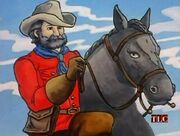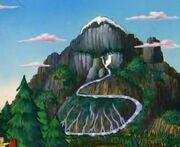 Captain Krasnic P. Walker, Esq. was the "brave founder" and namesake of Walkerville. He was a bearded man that founded the city in the 1890s, and had a passionate love for rocks. Also historical was his trusty steed, Wonder.
Fascinated that rocks came in so many different shapes and sizes, it was said that "rocks and poetry were his passion." His first home was built with fieldstone, the road to the house was paved with cobblestone, and the cornerstone of the fieldstone was limestone. His favorite "Rock-Rock Joke", was "Knock Knock; Who's there?; Lica; Lica who? Like-a-Rolling Stone!"
He left a very specific will of how he wanted a monument to him to later be constructed. It would later be constructed under the supervision of his great-granddaughter, Ashley Walker-Club Dupree, who would run a contest won by Arnold Perlstein.
"A statue formed without human hand,
shaped and scraped like our vast changing land.
Bumped and thumped by wedges and blows,
the artist will chisel my face as it flows."

- Captain Walker's will.
The eventual monument was in fact carved into the face of a mountain. ("Rocks And Rolls")