"Ready, set, epic!"
—Turning on the Bus's high-powered fan in Pigs in the Wind
Jyoti Kaur (Devanagari: ज्योति कौर) is one of the eight students in Ms. Frizzle's class. She was never one of the original 20 students.
Personality
Jyoti is the optimistic tech whiz in the class. She shares some similarities in personality and characteristics to Wanda—she is very strong and is skilled at martial arts (she is even a black-belt in judo, as mentioned in the book Meet the Class), and she has an aggressive side, but she's not as tomboyish as her classmate. Jyoti is quite intelligent, and she has shown an inventive side, such as in "Frizzle of the Future" when she invented a smart motion sensor for an invasive, crazy-growing plant species that lives in the Frizzle classroom, or an automated backpack-umbrella that can retract, expand, and detach itself at the will of the user ("Send in the Clouds"). Jyoti has concocted a smart-fabric coat, rendered a 3D holographic clone of herself, and even built a weather-forecasting umbrella. One of Jyoti's most notable inventions or projects is her sentient humanoid android, Naniben. She seems to have a slight crush on Ralphie and will do anything to help, protect him, or please him, such as making an ice machine that Ralphie wanted for a rover for a space field trip, so he could keep his favorite juice cold ("Ready, Set, Fail"). She seems to take after her grandmother, as they both love technology.
Appearance
Jyoti has her dark brown wavy hair tied in a side braid, and brown eyes. She wears a magenta hairband, gold hoop earrings, a lavender and indigo shirt, black shorts, cream socks, and purple and white sneakers.
For beachwear, she wears a magenta and purple rash guard with a purple star in the middle.
For winter wear in "The Tales Glaciers Tell", she wears a violet parka and ski goggles with sepia lenses.
For winter wear in "In the Zone", she wears a magenta winter coat, magenta pants, violet boots, violet gloves, and an indigo beanie with a white ball on top.
For space wear, she wears a jumpsuit in her signature colors, magenta, indigo, and violet. It features the Magic School Bus logo.
As the Mighty Inferno, she is a smoke-black figure covered with molten hot lava or magma (depending on where she is). Her red hair is tied into a braided ponytail.
Her flight suit is orange embellished with the Magic School Bus logo in the middle.
Storyline
The Magic School Bus Rides Again
Season 1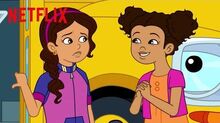 Jyoti is the new student in the class, as Phoebe went back to her old school in "Frizzle of the Future". She joined the class on a trip to the Galápagos Islands and stopped an invasive plant species from growing all over the place. In "Three in One", she brings her robot friend Naniben to school to help for the next Gizmos-that-Go competition. When DA loses Jyoti's waterproof smart-locket in the ocean during n "Dorothy Ann and the Deep Blue Sea", the kids travel to the ocean to get it back. In "Space Mission: Selfie", Jyoti offered to use her green-screen app to take Keesha's picture for Astronaut Camp "in space", but when Ms. Frizzle escorts the kids to the Magic School Bus to fix some satellites, they end up taking the picture in real space. In "Hides and Seeks", Jyoti stayed at Walker Elementary to participate in Ultimate Hide and Seek with Ralphie and Tim while Dorothy Ann, Carlos, Arnold et al. explore the rainforest and give them ideas on how to master camouflage. Jyoti eventually gets kicked out of the game, but stays behind to help the boys.
Season 2
In "Nothin' but Net", Jyoti wanted to send a holographic version of herself to her grandmother's email, but instead, Arnold scanned himself into the Bus's Super Scanner into the Internet, so she sends the other kids including herself to rescue him. Jyoti invented an Autobrella in "Send in the Clouds", an umbrella connected to a backpack that is ideal for people with their hands full. In "Making Magic", she joined the class and Mr. Ruhle on their quest to fix the Bus. After the trip, she called Professor Frizzle so she can bond with her like the other students had in the past, and had a conversation about the Sun. She asks the Professor when she will be returning to Walkerville to visit her and her classmates. In "Kids in Space", Jyoti joined the Friz and the class on their field trip to the International Space Station, where they encountered Pinky, a tardigrade who was turned into a mutant monster by the Bus Remote's Porta-Shrinker. Jyoti was the technology manager and controlled Itty-B, a special drone connected to and shaped like the Bus who can project images to Jyoti's FrizTab. While celebrating Arnold's eleventh birthday at the Balloon Festival in "The Frizz Connection", Jyoti falls victim to the lightning, which separates her from the rest of the class. She appears with the more adventurous students in Perú with the buff, brave, daring side of Ms. Frizzle, named "Fiona". In "In the Zone", Jyoti and the kids attend Ms. Frizzle's cousin Maven's New Year concert in every time zone ever, and she is also excited for the New Year, so she created a video thanking the Bus for the most amazing field trips. But when the Bus has to update its MagicWare before 12:00 AM during New Year's Day, things start to get weird, as she and the class are transformed into different things, and the Bus heads south to the south pole. When it's too late, past midnight, and the Bus loses its MagicWare, she sets the clock back to solar time and the Bus finally updates.
Relatives
Her grandmother, Parīkṣā (whom she calls नानी nānī, the word for maternal grandmother in Hindi) is introduced in Nothin' but Net.
She gets her interest in technology from her father, a robotics engineer, introduced in Meet the Class.
FrizPad devices prior to "Kids in Space"
Magenta phone
Magenta tablet
Magenta laptop
Trivia
Jyoti is the only student who's mother wasn't mentioned.
Her field trip suits are magenta and royal blue.
Jyoti has a strong interest and talent in the fields of technology and engineering.
Reports that are "by Jyoti" only exist in the Young Scientist Club kits, making Jyoti the only student who has never done a report in any book.
She is named after Jyoti (ज्योति), the goddess of light in Hinduism.
Jyoti is a black belt in judo martial arts. [8]
She is the second character to cry. [9]
It's implied that Jyoti likes video games. [11]
In Tim's books, she is known as Mighty Inferno. [12]
Like Janet, she is a fan of magic, especially the Bus and its devices, like the Porta-Shrinker, Shrinkerscope, or the Mesmerglober. [13]
Jyoti is shown to be a gymnast. [14]
Jyoti is the only student who never debuted or appeared in a core-series book, not counting Explores Human Evolution. She is also the only student not to appear in the Original Series. [15]
She resembles Florrie, a student from the original 1986 class. Her sweater is reminiscent of Rachel's, another original student.
When the class enters her brain and later her nose in "Ralphie Strikes a Nerve", she, like Janet in "Makes a Stink", never sneezed the class out of her body like Ralphie did in "Inside Ralphie" or Carlos attempted to do in "Carlos Gets the Sneezes". [16]
Jyoti is the only one not to be in

Professor Frizzle

's fourth grade class.
Jyoti is the 5th major character revealed to have grandparents (her grandmother, Parīkṣā). The first was Ralphie, the second was Keesha, the third was Tim and the fourth being Arnold. [17]
Jyoti, just like the other kids, were probably born sometime in the 2000s, as she is 10 in the TV series, The episode The Land Before Tim reveals that the TV series is set in 2017 (the release year of The Magic School Bus Rides Again).[18]
Jyoti has been in trapeze school for three years. [19]
Jyoti is the second student in the TV series that is Asian American to be introduced, the first being Wanda. Jyoti is from India, and Wanda is from China. [20]
She seems to have a crush on Ralphie, as she is always teaming up with him or worrying about him during most field trips, as seen in episodes like "Three in One" and other episodes focusing on one of the two. She is often shipped with him (JyoPhie).
She, Wanda and Ralph (Ralphie's real name) all have 5 letters in their English name. Jyoti also has five letters in her French/Italian name, Jioty, where the only difference is that the I and Y are swapped. She has one extra letter in her Greek name, Τζιότι, as the [ʤ] sound that the ‹j› makes is often transcribed in the Greek alphabet as ‹τζ›.

Just like Carlos, she keeps the same letters throughout all languages that are written using the Latin/Roman (English) alphabet. They are J, Y, O, T, and I (sometimes I and Y are swapped).

Jyoti's theme colors for her suits and FrizTab are indigo and magenta.
Despite never been in their class, Jyoti is the first student to be absent for an episode. [21]
Jyoti is the only student who has not made a pun. [24]
Jyoti is the only non-book exclusive student to wear a braid.
Jyoti's grandmother's address 54 Mulberry Lane, London, United Kingdom.
Like Dorothy Ann and Keesha, Jyoti was one of the three students to own a FrizTab prior to Season 3, when it was replaced by the FrizPad in Kids in Space. [27]
Jyoti's favorite sports are rock climbing and swimming. [28]
Jyoti's favorite movie is Revenge of The Deep 2. [29]
Jyoti is one of two girls who never hint any romantic feelings towards Arnold. Keesha being the other. [30]

She is also one of the two girls who never hint any romantic feelings towards Carlos. Phoebe being the other, even though they haven't met. [31]

She is the first female student in Ms. Frizzle's class whose body was a field trip, when they explored her brain in "Ralphie Strikes a Nerve". However, similar to Janet's nose in "Makes a Stink", they were only inside her brain for a short time.

However, she could be the second female body to be explored, if the exterior of Phoebe's forehead counts in Goes Cellular.

Jyoti is right handed. [32]
References